March 2022  International Exchange Salon "The Emergency Drill"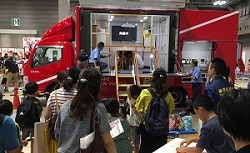 Due to extension of the quasi-emergency measures against the new coronavirus, we regretfully announce the cancellation of CCIEA International Exchange Salon "The Emergency Drill" which is scheduled on March 12th.
Japan is an earthquake-prone country.
It is important to be prepared for earthquakes at all times.
Let's learn fundamental knowledge for natural disasters.
Date: March 12, 2022 (Saturday) 2:00pm – 4:00pm
Place: Shintomi Community Hall 2F Room 6・7 (1-13-24 Shintomi, Chuo-ku)
■Pre-registration required
Please apply by e-mail with the information below.
Your name, Address*, Phone number, Nationality, Gender and Age.
(*if you are non-resident of Chuo City, please let us know whether you work or study in Chuo City)  
Email: bunkoku@chuo-ci.jp
* If you have a fever (over 37.5℃) or slight cold on the event day, please refrain from attending this event.