March 2023 International Exchange Salon「Emergency Drill」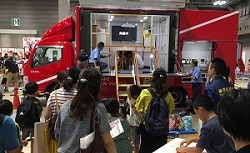 The theme of the International Exchange Salon for March is "Disaster Prevention."
Do you know what to do in the event of a sudden disaster? Are you prepared for that time?
To protect your life, it is important to know what to do in the event of a disaster.
The Kyobashi Fire Station will teach us hands-on and life-saving responses through simulation training.
※ In case of a large number of applicants, participants will be chosen by lottery on March 6, and
informed by e-mail. If there are vacancies, we will continue to accept applications and post the information on our website.
Date and Time: March 18 (Sat.) 2 p.m.*~4 p.m.
Venue:Shintomi Community Hall 2F Room 6・7 (1-13-24 Shintomi)
※Please arrive by 1:50 p.m.
■Advanced application is required / Free Admission
Please apply by email with the information below.
①Name ②Address ③Phone Number ④Nationality ⑤Age
(If you are a non-resident of Chuo City, please let us know whether you work or study in Chuo City. )
Email: bunkoku@chuo-ci.jp  
* If you have a fever (over 37.5℃) or slight cold on the event day, please refrain from attending this event.